Ancient Chinese metaphysicians had provided a framework to theorize and conclude the complicated Chinese metaphysics into one simple theoretical framework – Chinese Triumvirate三才 : Heaven天-Human人– Earth地 . Although most of the contemporary feng shui practitioners aware of this, yet, their comprehension of it is very limited to superficial level. By refering to Old text of DAO 道; I have rephrased them into : 
Cosmantics

for All Heaven and Divine powers and influences upon Mankind.
Humantics for all outcomes of tangible & intangible actions-reactions from humankind realm(include moral and ethics)

Geomantic

s for all visible & invisible influences from the contents of earth upon Mankind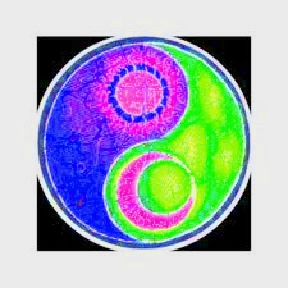 If you had undergone strict training from enlightened Yijing & Dao master, you should have learned that Heaven Realm天(Cosmantics) includes Divine Intervention. Dao never one sided when evaluating Good vs Evil. According to Dao, Good and Evil is the 2 sides of the same coin. Evil is equally important as Good. Similarly, Dao looks at God and Satan as 2 polar, yet, complementing and replenishing each other.
If you had looked into Old Classic (written in Old Mandarin) of Dao, you would have learned how Divine/Satan could easily interfere/intervene/interupt into Humankind Level 人界 ( Humantics) Easily. However, if you only study those Confucianism after Han Dysnaty, then, this knowledge was purposedly sealed up/covered up due to social control and political motivated by imperial court. Sadly to say, many practitoners never do enough academic study and deep enough to discover the very essence of this level, Heaven (Cosmantics). This explains why many contemporary feng shui practitoners limit their understanding of Heaven(Cosmantics) as timeliness or time contiuum aspect ONLY. Under this misunderstanding, they label bazi, birth data under this category and limit their own mind that Heaven 天(Cosmantics) only explains one's brith data.
This misconception has caused practitioners to miss out a very huge content of Cosmantics 天道. For those who are interest to know how Divine/Satan intervene into human realm, kindly do some research onto Dao by your good self. You may counter refer to Bible, al-Quran, Buddhism, Rid-Veda and Yijing.
Failing to do this kind of research, means that you are NOT good enough to see that reality of Humankind's Hidden Secret on this Planet -Earth. Rejecting the Divine intervention tells that you are rejecting great wisdom and teaching by Jesus in Bible, instructions from Allah in al-Quran, Buddha explanations about Evil in Buddhism and Demon in Rig Veda etc…. However, if you are a practitoner who has seen this invisible world and see how this invisible creatures interupt the human realm, you could easily understand what I try to explain here and I  congratulate you. Welcome into invisible world…..
The knowledge you have related to  feng shui, is NOT sceintific at all, strictly speaking. (I had great discussions with a few sceintists, and none of them agree to put feng shui as science) Although feng shui is not scientific ( it is sceintistic, means feng shui has some characteristics of science but yet it is still far behind scientific). Therefore, if your feng shui audit is fully/purely rely on the primary dialectics logic deduction provided by XKDG or XKFS, I can assure you that you will be "laughed" and "teased" by academic highly educated people.  Hoping to change one's luck by Door Tilting taught by market driven master of XKDG version (based on early heaven deduction logic);  shows that his frustration had allowed his mind to be poisoned and manipulated by Faked XKDG.
If you believe in a XKDG master to change your luck in short term by door tilting (to certain degree); then, you are putting a Wrong FAITH in a Wrong person to perform a miracle which will never happen. If a XKDG master claims that he can change your luck by XKDG formula, then, this XKDG master is MUCH GREATER than  JESUS in Bible who had performed so many miracles (which most of the miracles also admitted in al-Quran).   Let me assure you, all those claims by XKDG masters are ALL empty promises. Wake Up my dear friends……You should put your trust in the TRUTH.
The only way you could win them is your ability to see the invisible, your ability to detact the undetactable. When your master tell you the hidden meaning of XKDG, then surely you will know and see something beyond physical world. When your master enlighten you with REAL Yijing knowledge, you will understand what I mentioned above.   Nevertheless, this ability is only limted to divinely selected few. Are you one of them?
 If there is no law of the Earth (Geomantics), there will be NO feng shui (Geomancy);
 because feng shui discipline explains how earthly dimension shapes one's destiny.
If there is no law of  Humankind (Humantics), there will be NO social + personal ethics with action vs reaction;
because Karma explains how one is rewarded and punished by one's cause of action.
If there is no law of Heaven/Divine ( Cosmantics), there will be NO Divine Blessing/Demonic Cursing/Angelic Protection/Satanic Seducing;
becasue All Divinations ( be Bazi reading, Tarot reading, Yijing reading, birth data destiny analysis, Divine Intervention by Daoist Rituals)  and ALL religions are theorized on the GROUND of this assumption.
 By the way, the Divine is closing the door to FAKED feng shui masters since year 2010.Currently, the divine is eliminating many FAKED feng shui masters from the ground.  By year 2016, most of the FAKED feng shui masters will be  eliminated/wiped out by Divine. If you have Dao + Yijing, you should be able to see this scenerio by your own eye. Nevertheless, you as a responsible and authentic feng shui master, you will rise together will the TRUTH. Wish you good luck.
Master Soon  
email : [email protected]
mobile:

+6012 560 3333