Feng Shui Blog Testimonial 2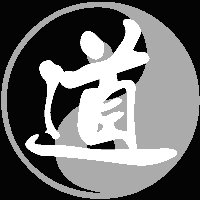 I was in Singapore on 22 May 2012. As usual, it was meant for feng shui audit. While searching for a cup of coffee, I was apporached by a big guy. I was shocked to be "blocked" suddenly and surprisingly in a public place of a foreign country by a BIG guy. After he introduced himself, then, I felt relief… He is Mr. Ong, one of the sincere blog readers, just like you. Just like many of you, prefer to shock me and communicate thru personal level, personal emailing…….
The sincerity and good manner of  Mr Ong of greeting recalled my memory of him who have wriiten me email last month… Meeting him by coincident without plan has sent some kind of signal to me ?..
异国相遇, 必有玄义…… 


On the same day, Steven Thung, one of the blog readers, dropped me an email in the morning. He came to see me at 4:30pm in Singapore. This meeting was also by Chance….. without planning…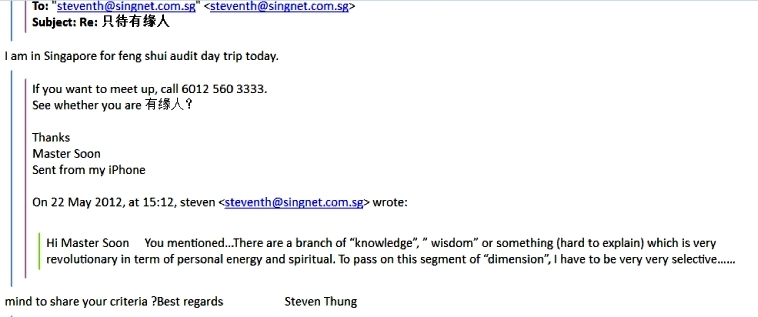 During the chat.. he wanted to know about in-depth information in relations to various schools of feng shui, religions, spiritualism, Daoism and……
By the way,many people prefer to communicate with me thru personal email due to some of their personal reasons; especially their status as "feng shui masters","feng shui practitioners", "feng shui consultants" and "feng shui lecturers". You are not the only feng shui specialist who drop me email for ideas and advices…. Anyway, if you are sincere and humble, normally I will show you a way to solve your problem in accordance to principle of Dao… I will let go some of my knowledge if you are a sincere person by HEART….. Sincerity is NOT my personal request… it is the basic requirement for you to understand the TURTH of Metaphysics…… and Dao
 These 2 events took place by CHANCE 这两件事是自然发生……  
Master Soon 
mobile:

+6012 560 3333  
Share on Facebook